CoinShares Reports Second Consecutive Week Of Outflows
Join Our Telegram channel to stay up to date on breaking news coverage
Digital asset investment products saw outflows for the second consecutive week as investors are feeling cautious about the market following the failure of Bitcoin (BTC) to break above $30,000. 
In total, digital asset investment products saw $72 million in outflows last week, according to CoinShare's latest fund flows report. 
The firm noted that the bearish sentiment could be "a reaction to the likeliness of further interest rate hikes by the US Federal Reserve" whose decision is expected on Wednesday, May 3.
As usual, the biggest change was seen for Bitcoin-backed funds, which for the last week saw outflows of some $45.5 million.
In addition to outflows from Bitcoin funds, funds backed by Solana's native token SOL also saw minor outflows, while all other altcoin funds saw either inflows or no change from the week before.
Notably, short-Bitcoin was described as "the winner " as saw its largest outflows since December 2022 totaling US$7.8m. Short-bitcoin's recorded net flows of $119 million year-to-date.
Funds backed by Ethereum's ETH token also suffered, registering outflows totaling $19 million last week, its largest week of outflows since the Merge in September 2022.
Funds backed by altcoins such as Solana, Cardano, Algorand and Polygon saw minor inflows with $.2 million, $0.2 million, $0.17 million and $0.14 million respectively.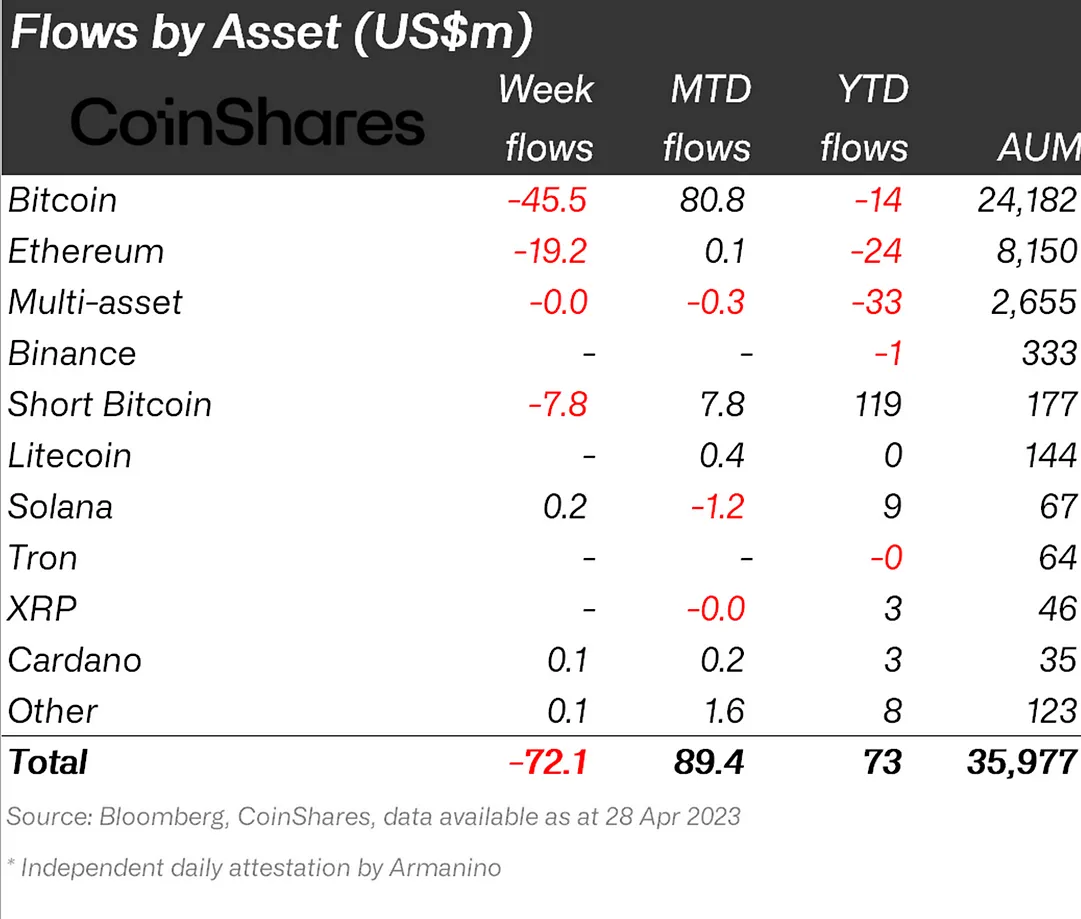 According to the report, crypto market funds experienced outflows across all geographies and providers, particularly in Germany and Canada, where outflows reached $40 million and $14 million, respectively.
Blockchain equities did not escape the negative sentiment, resulting in outflows of $2.5 million last week, although the year-to-date (YTD) net flows remain positive at $27 million.
An excerpt from the report reads:
Volumes remain subdued for the broader crypto market (50% less than year average) while ETP investment product volumes at US$1.7bn for the week are 16% above the year average.
Bitcoin has ex[erienced significant price fluctuations over the last seven days, resulting in 5.72% weekly losses. At the time of writing, it is exchanging hands at $28,255, up a mere 0.63% over the last 24 hours. 
It trades at the 50-day Simple Moving Average (SMA) around $28,300. Bulls must push the price above this level to avoid further losses. Otherwise, a daily candlestick close below the said level would bring areas around $25,000 into the picture.
Despite this grim outlook, the BTC price is still up 72% year-to-date, outperforming the S&P 500 index's 9% and Dow Jones index's 1.65% gains. 
More News:
AiDoge – New Meme to Earn Crypto

Earn Crypto For Internet Memes
First Presale Stage Open Now, CertiK Audited
Generate Memes with AI Text Prompts
Staking Rewards, Voting, Creator Benefits

Join Our Telegram channel to stay up to date on breaking news coverage