Crypto Liquidations Hit $170M, BTC Holds $30,000
The decline in the value of cryptocurrencies over the last 24 hours has led to $169 million in crypto liquidations for traders, according to Coinglass data.
Per the data, 46,931 traders were liquidated, with the largest liquidation happening on OKx and valued at $3.04 million.
Meanwhile, the market drawback affected both short and long traders. However, traders holding short positions accounted for most of the crypto liquidations, with 59% of the total losses.
Bitcoin Price Drops 1.13%, Tops Crypto Liquidations
In terms of digital assets, Bitcoin accounted for most of the crypto liquidations, with over $80 million liquidated. Traders with positions in Ethereum also recorded a loss of $23.33 million, while Arbitrum traders lost $8.3 million. Other tokens with major liquidations include Dogecoin, Solana, and Litecoin.

Meanwhile, four exchanges – Bitfinex, OKX, Binance, and ByBit – were responsible for more than 90% of the crypto liquidations. Only on Bitfinex was the liquidation mostly from short positions. On the other exchanges, most traders who got liquidated held long positions.
Interestingly, all these assets only recorded a slight drop in value over the last 24 hours and are still trading at relative highs. BTC dropped 1.13% to trade for $30,457 as of press time, according to BeInCrypto data, while ETH lost less than 1% of its value and is still trading above $2,000.
Shappella Upgrade Boosts Crypto Market
Despite today's price correction, the crypto market has enjoyed one of its best weeks this year after Ethereum completed its Shappella upgrade. The Shappella upgrade is the first significant development on the Ethereum network since the merge, which made it possible for validators to withdraw their staked assets.
During the week, the flagship digital assets — BTC and ETH — broke through price barriers to reach new highs for 2023. BTC reached $30,000 for the first time in nearly one year, and ETH also traded above $2,100 for the first time in 11 months.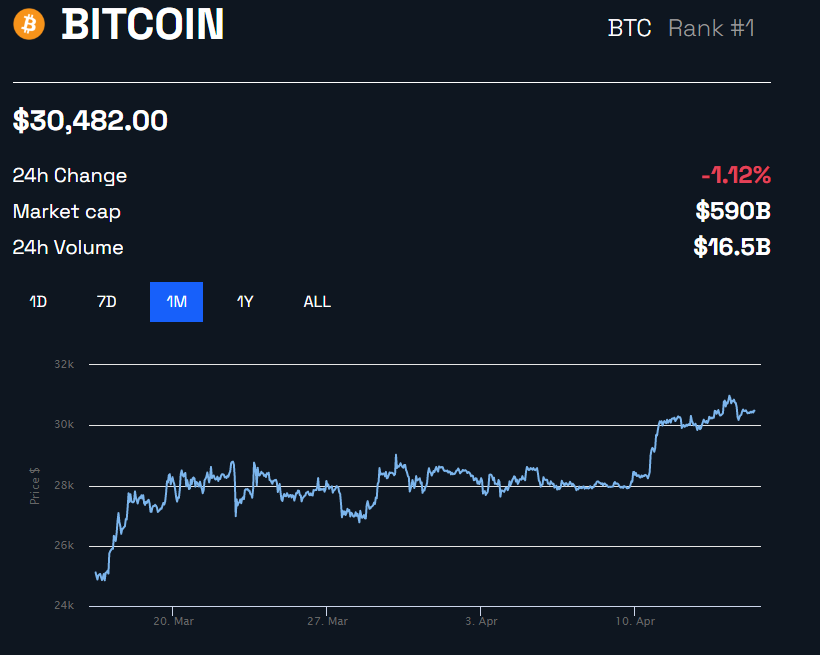 Other top digital assets like Cardano (ADA), BNB, Ripple's XRP, and Solana (SOL) all saw their values rise by an average of 10% each, according to BeInCrypto data.
FxPro senior market analyst Alex Kuptsikevich noted that Ether's rally pulled most of the market. Kuptsikevich further added that the "Shapella hard fork triggered the rally."
Disclaimer
All the information contained on our website is published in good faith and for general information purposes only. Any action the reader takes upon the information found on our website is strictly at their own risk.