Will The Bitcoin Price Revisit The Lows? Why Traders Are Hedging Their Bets With Crypto Presales
Join Our Telegram channel to stay up to date on breaking news coverage
Bitcoin's price surge in the first quarter of 2023 has slowed down after it reached a peak of $31,200 during that period. 
A rising trend line acted as a barrier, preventing Bitcoin from surpassing $31,100. Currently, Bitcoin (BTC) is priced at $26,667.09, and its 24-hour trading volume amounts to $15,379,207,572. These figures indicate a decline in the price of -2.85% over the last 24 hours and a decrease of -8.65% over the past 7 days. 
BTC price might be revisiting the $25,000 level soon. According to the chart above, the price of BTC has been on a downtrend since hitting the $31,000 high. Consequently, the price has formed a lower high, indicating further downward movement.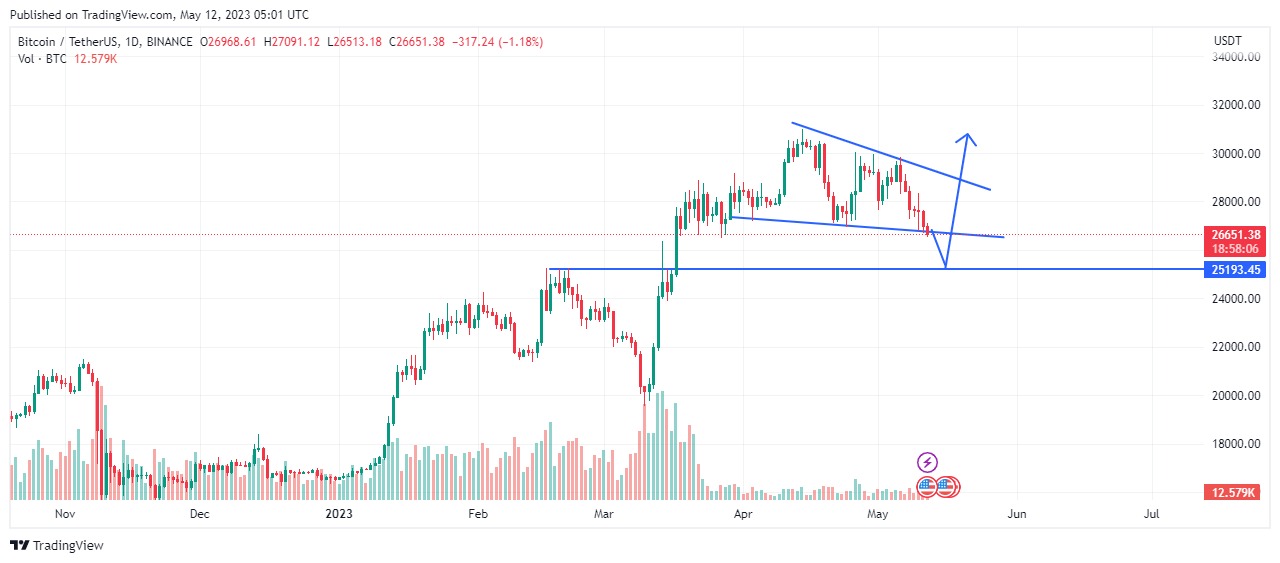 Therefore, if the price breaks entirely below the lower trendline of the descending triangle, then a $25,000 support zone will be inevitable. According to the analysis, we predict that the price of BTC might rebound on the lower trendline towards its former resistance zone at $31,200. Alternatively, the price might hit the $25,000 support zone if it continues below the lower trendline.
Crypto Presales that Traders are Buying as the Bitcoin Price Sinks
While Bitcoin price undergoes this retracement, several presales are gaining significant attention from investors. These presales involve raising funds for new projects, and investors are pouring in substantial amounts, aiming to generate higher profits than trading Bitcoin directly.
AiDoge (AI)
In its stage 8 presale of this revolutionary platform that allows people to create memes, AiDoge's $AI token witnessed tremendous success as it raised $5.9 million. Investors have exhibited significant interest in the AiDoge presale, resulting in a successful presale exceeding $5.9 million. The presale offers the ERC-20 AI token with a total supply of 1 trillion tokens, adhering to the expected criteria for token development.
Exciting news, #AiDogeArmy! 🎉

Our #Presale has raised over $5.6 million!💰🤯

A massive thanks to the entire #AiDoge community! 💪

Don't wait any longer, join the #Presale today before the next stage runs out!🔥🚀

👉 https://t.co/5j5tt4smcs#Memecoin $FLOKI $PEPE $SPONGE pic.twitter.com/2nNFMQOFzu

— aidogecrypto (@aidogecrypto) May 11, 2023
The AiDoge project comprises a series of twenty presale stages, each offering 25 million tokens for sale. In total, 500 million tickets will be made available for purchase. The current round of the presale sets the price of each AI token at $0.0000292. Given the projected high demand for these tokens, investors are strongly encouraged to participate in the presale at the earliest opportunity to secure their investment.
The concept of using AI in various crypto projects has gained significant popularity, and AiDoge has emerged as one of the most sought-after AI meme crypto investments in the market. The meme coin frenzy has captivated the cryptocurrency community, with investors flocking to seize the opportunity to achieve overnight success. The exponential profits earned by early buyers of Pepe coin, reaching up to 20,000% or more, further fueled this enthusiasm.
You can buy tokens with ETH, USDT (ERC-20 and BEP-20), BNB, and cards. We project the token's price to be $0.0000336 when listed, and we expect listings to occur during the third quarter of 2023. We have set the maximum amount raised during this presale at $14.9 million. 
AiDoge incorporates a public wall feed for all user-created adaptations. The wall functions as a voting platform to determine the best memes. We compensate outstanding makers with AI tokens. At the end of each month, we award tokens to the memes that receive the highest scores. You can find a guide on how to buy AI coins on our website.
YPredict (YPRED) 
yPredict, a cryptocurrency powered by artificial intelligence, has recently raised $914k in its almost-ending stage 4 presale. This indicates its potential to revolutionize the cryptocurrency industry. The yPredict token has captured not only the interest of investors and cryptocurrency community members, but it sold out within a couple of hours. 
📣 Heads up, everyone! Ypredict Presale Stage 4 is nearing its end! As the clock ticks⏰ we're getting ready to transition into Phase 5.

Seize this last chance to be a part of the predictive analytics revolution at the exclusive price of $0.05, before it rises to $0.07! 💸

⌛… pic.twitter.com/hfn5ezmHvM

— yPredict.ai (@yPredict_ai) May 10, 2023
By leveraging the potential of blockchain technology, yPredict offers a trustworthy and secure prediction market that is transparent to all users. The network operates on the Ethereum blockchain, with the $YPRED token as its native currency.
By implementing smart contracts, yPredict aims to provide consumers with a decentralized alternative to centralized prediction markets. Users can create and participate in prediction markets across various topics, including politics, sports, and economics.
Traders will need to get a subscription to yPredict, which grants them access to the platform's full range of AI-powered features. To make the subscription process more advantageous, yPredict has introduced its native currency, $YPRED, which operates on the Polygon blockchain. By utilizing $YPRED, traders can purchase services at a significant discount.
Moreover, traders can stake their $YPRED tokens to participate in income sharing. By becoming stakeholders in $YPRED, individuals are entitled to a 10% revenue share from every new subscription. Upon listing, the total supply of $YPRED is anticipated to consist of 100 million tokens, with a market capitalization of $6.5 million.
Currently, interested parties can participate in the yPredict presale and acquire $YPRED tokens at $0.05 per token. This offers a substantial savings of 140% compared to the projected listing price of $0.12.
Launchpad ($LPX)
Launchpad XYZ's native token, $LPX, has experienced impressive growth in its presale, with over $310,000 raised in just a few days. This significant achievement highlights the potential of $LPX as a top crypto gainer for investors seeking portfolio diversification.
During the initial presale stage, each $LPX token is auctioned for $0.035. However, as each presale stage is completed, the price of $LPX increases. This upward trend reflects the market's confidence in the project and its potential for success.
🚀 Launchpad XYZ is building a complete #Web3 ecosystem that you won't want to miss out on

💬 Stay connected with our dedicated Telegram channel, where we keep you on track with daily news and insights

Be the first to join and keep up with the market 👀https://t.co/9cxnalsA9T pic.twitter.com/tYRIyni45Q

— Launchpad.xyz (@launchpadlpx) May 11, 2023
Launchpad is a platform that simplifies and facilitates users' navigation and understanding of the complex Web3 ecosystem. It achieves this by providing users with market sentiment, news, in-depth analytics, and insights. The critical component of the Launchpad ecosystem is the user-friendly Web3 wallet, which allows individuals to sign up quickly using their email address or phone number.
With the interaction and engagement on Launchpad, users will eventually gain access to a range of decentralized applications (DApps) through the $LPX token. These DApps include games, data storage and sharing platforms, and a taxi-hailing service.
Launchpad XYZ Web3 Wallet makes everything comfortable and accessible right at your fingertips, just like being at home 🏠

Sign up with your email or phone number and enjoy features like token swapping and assets self-custody with ease 🚀https://t.co/yYq4jnPZiL pic.twitter.com/LiioxA8ykz

— Launchpad.xyz (@launchpadlpx) May 11, 2023
Launchpad aims to empower widespread Web3 participation by minimizing barriers and streamlining processes. By prioritizing usability, the platform aims to make it easier for anyone to get involved in the Web3 space.
Furthermore, Launchpad envisions itself as the central hub where individuals can discover platforms and products that align with their interests. Launchpad aims to simplify the search for relevant and engaging Web3 offerings by providing a comprehensive directory. For more detailed information, you can visit Launchpad directly at their website.
Related
AiDoge – New Meme to Earn Crypto

Earn Crypto For Internet Memes
First Presale Stage Open Now, CertiK Audited
Generate Memes with AI Text Prompts
Staking Rewards, Voting, Creator Benefits

Join Our Telegram channel to stay up to date on breaking news coverage